AN EVENING OF COOKING, CARE AND CONNECTION
Every week, A Better Life Foundation invites neighbours from Vancouver's Downtown Eastside community for a free, 3-course sit-down dinner in the iconic Save On Meats building.
We call it Plenty of Plates (POP), a community meal hosted by volunteer teams who fund the event and prep, cook and serve 80 people a home-cooked, nutritious and delicious meal.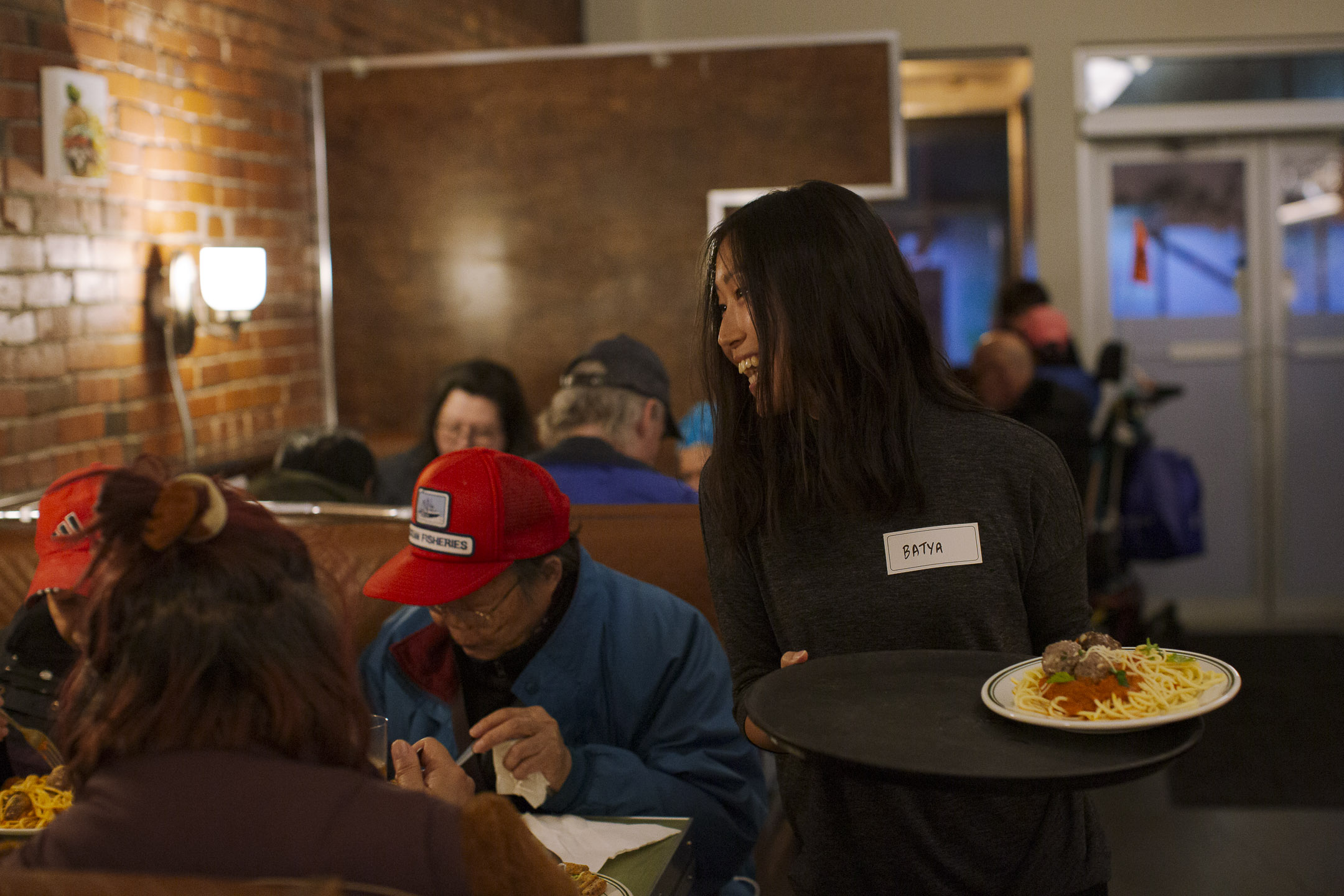 PLENTY OF IMPACT, SINCE 2017
0
COMMUNITY MEALS
0
PEOPLE SERVED
0
VOLUNTEER HOURS
SERVING COMMUNITY IN THREE WAYS
 A free and dignified dining experience for people who need it most

 

A fundraiser for our

daily meal program

 A teambuilding activity forging unforgettable connections with our DTES community
HOT MEALS MADE FROM THE HEART
10 – 20
Team members needed on site to host a community meal
4.5 HOURS
Your event will run from 5:00 – 9:30 pm
720 MEALS
80 at the event with remaining funds raised covering 640+ the next day
MANY WAYS TO FUND AN EXPERIENCE
Led by our chefs, volunteer teams takeover the pass and run the diner. Before the event, each team commits to raising a minimum of $5,000 through:
company sponsorship

donated proceeds from special sales

employee donation matching 
We provide a custom online donation page to support your fundraising.
WANT TO LEARN MORE ABOUT HOSTING AN EVENT?
Meet Ash MacLeod,
Executive Director – A Better Life Foundation
info@abetterlifefoundation.ca
"Virtually every team who participates shares that although they volunteered their time and energy, they received more than what they gave. I'm grateful to be the conduit between such reciprocal generosity."
WE'RE BOOKING INTO 2023 AND BEYOND!
Please fill out the form below and one of our team members will be in touch with you shortly.